This recipe is perfect for a dinner for two! :)
*Contains meat and dairy products*
You'll need:
Salmon
2 frozen salmon fillets
a little jar of pesto
1 roma tomato
olive oil
Asparagus
4 cloves of fresh garlic
3 tablespoons of butter
one bunch of fresh asparagus
fresh grated parmesan cheese (optional)
Salmon- Prep work:
You will need to make sure that your salmon is thawed. The directions will be on the packaging. I did a quick thaw in which I put the salmon (in its original packaging) in a bowl of cold water. I laid my thermos on top to keep the bag fully submerged. The frozen salmon thawed fully within an hour.
I peeled and seeded my tomato. Learn how
here
. (I actually cut out the core of my tomato also, which isn't in these directions.)
Baking the fish!:
Next, I preheated my oven to 400 degrees. Then i took a 9x12 pyrex baking dish and sprayed with cooking spray, also drizzled with olive oil, to ensure that the salmon would not stick! Lay the thawed salmon in the dish, take your bottle of pesto (make sure you mix it well with a spoon or all the oil will be at the top!), spoon it out over the salmon creating a nice, even layer. Take a few slices of your tomato and put on top of the salmon. My slices were pretty ugly and I had leftover tomato, so I diced the rest and threw that on top as well. Now you're ready to throw it all in the oven!
Put the salmon in the oven for 15-18 minutes (will depend on your stove and where you have your rack positioned). Voila!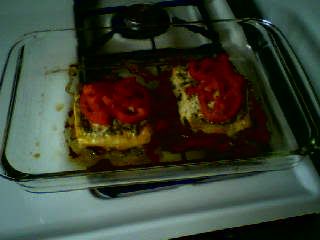 Asparagus- Prep Work:
Take your bulb of garlic, and break off four cloves.You need to
peel
and mince the garlic (chop it up really small).
Wash off the asparagus then go through the bunch and snap off the ends. Where the asparagus natually snaps is where it is most tender, and it will break naturally (mine snapped off about 2-3 inches from the bottom).
Sauteeing the Asparagus!:
Put a skillet on medium heat and drop in your butter and garlic. Once the butter is melted, throw in the asparagus and make sure to get all the stems coated. Cover the skillet and cook for about 10 minutes. You might need to adjust your flame if you're using gas. My recipe called for medium-high heat, but I ended up cooking on low heat. Every few minutes I would uncover and mix around the asparagus to get them cooked evenly.
Enjoy with a glass of Pinot Grigio (which is supposed to go well with salmon!) and feel free to top it all off with some fresh parmesan cheese!
Final product:
Current Music: The Fray - How To Save A Life